It's a Wrap!
Dearest FoldiFans,
As you probably know, we returned from CES 2018 Las Vegas just a few weeks ago, and now we can finally take a moment to recapture this epic event and tell you all about our FoldiExperience.
We are fully aware that people are waiting for a technological solution to help with the tedious chore of laundry folding, but we didn't imagine, in our wildest dreams, that FoldiMate would create the amount of excitement that we experienced at our CES booth this year. We are truly humbled by all of the love and interest that we received throughout the event, and would like to take a moment to thank everyone who visited us or watched and shared the content we posted.
Now, let's look back for one last time and recap this mind-blowing tech extravaganza.
Launching the New Website and 'CES Unveiled'
A few days prior to the world's largest gathering of technology and innovation, we participated in special events that allow excited exhibitors, such as ourselves, to demonstrate their technology to a large crowd of journalists from some of the biggest and coolest publications around the world.
We kicked off our unveiling of the improved concept model of FoldiMate at an event named 'CES Unveiled', where we ran our very first demos to various publications and channels. It was very exciting to meet writers from the largest media outlets in the world such as Wired, Mashable, TechCrunch and even American TV news channels. But, out of all of the interviews we gave, this years 'hands-down' FoldiMate favorite, goes to the amazing 10-year-old Tatum F that interviewed our very own CMO, Debbie Cohen-Abravanel, about the wonders of our improved robotic laundry folding machine concept model.
On January 7, the same day as 'Unveiled', we also finally launched our brand new website and officially opened Early Pre-Orders that allow placing a fully refundable $85 deposit to join the FoldiMate priority list. Members on our priority list will be the first to own a FoldiMate once it becomes available and are entitled to a 10% discount off the final price.
'Pepcom'
The very next day we attended 'Pepcom', which was very similar to the idea of 'CES Unveiled' and was celebrated within a football theme. Pepcom tends to throw a different theme each year and this year's association between competitive sports and a bunch of enthusiastic tech geeks such as ourselves seemed merely coincidental but definitely added pizazz to the experience.
Our table at Pepcom was very busy, with numerous reporters from top-tier TV channels, YouTubers and more members of the press that came by to check out FoldiMate's improved concept model and even try it out first-hand. Meeting everyone was great, and we couldn't wait to begin demoing at our main CES 2018 booth, which was held at the Sands Expo inside the grand hall of the Venetian Hotel.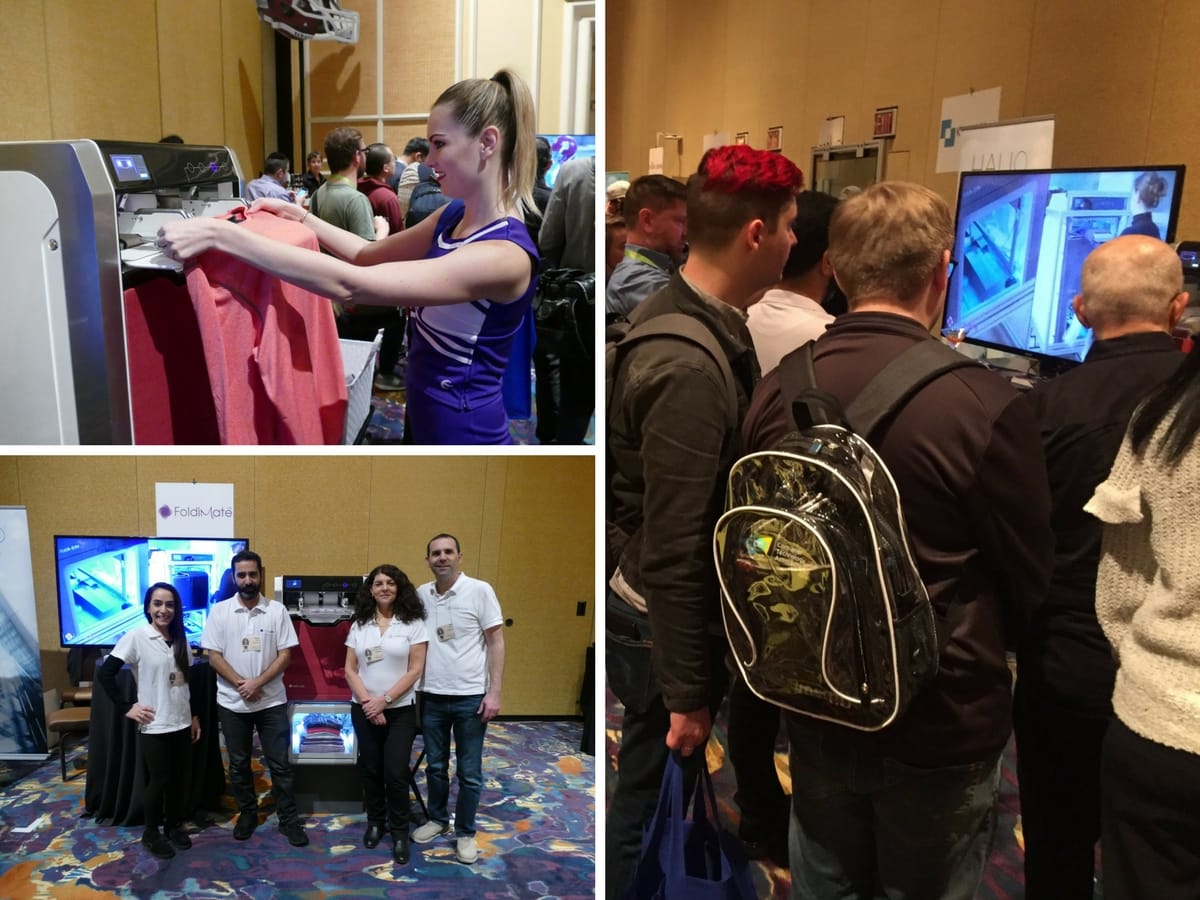 CES 2018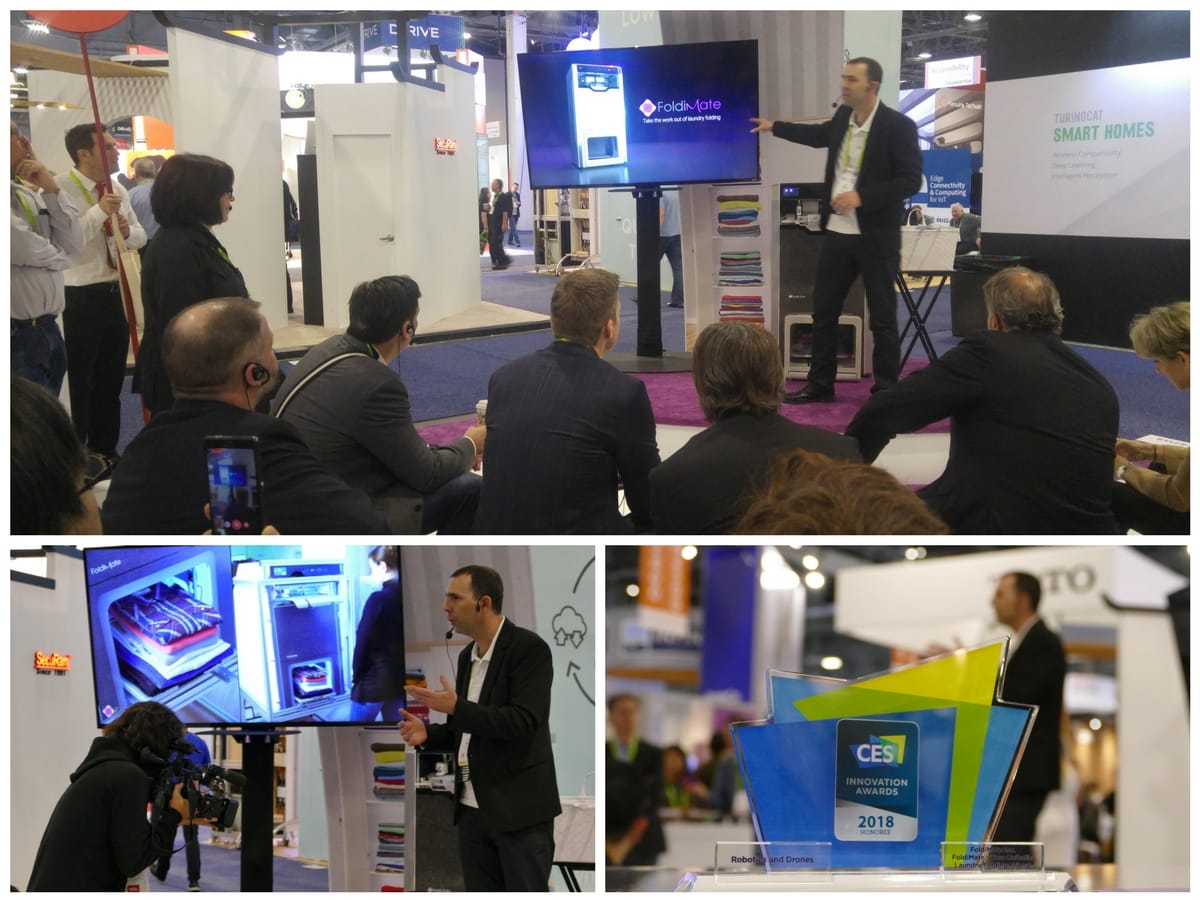 This year, we set up our station in a much larger and newly designed booth that was planned so that visitors could take a seat, watch, participate in our demo, and of course ask questions. Gal Rozov, our founder and CEO, demonstrated the new concept model and invited people from the crowd to come up and try it for themselves. At the same time, FoldiMate was also being exhibited at the CES Innovation Awards Showcase, an honor which we received for a second year in a row. As the main booth was constantly filling up with interested participants, the second concept model that we brought with us to Las Vegas was being exhibited at the official Innovation Awards Showcase along with some of the coolest technologies of the entire event.
We also ran a Social Media competition throughout CES2018, and this year's lucky winner won a free FoldiMate that will be sent over when we begin first shipments to his region. If you were one of the contestants – we just want to thank you so much for taking part. We really appreciate your time and creativity!
Read our post to learn more about our Foldicontest and check out who won.
Summing Up…
"I like large parties. They're so intimate"- F.Scott Fitzgerald
It's safe to say that this year FoldiMate truly took CES 2018 by storm with over 100M video views via online channels worldwide, over 40 US national TV news channels that covered us on prime time, hundreds of articles in various languages and hundreds of thousands of people on Social Media that kept the FoldiMate conversation going. We really can't thank you all enough for the support, feedback, and engagement that we experienced online and in-person. No doubt that this year was our biggest appearance yet and we are now working very hard on finishing up development towards next year's CES 2019, when we plan to bring our fully functional folding FoldiMate.
There's a lot to look forward to as we have already started our very busy year of development & laundry-folding, and can't wait to tell you more about our progress and keep you in the loop on future FoldiMate milestones. But all in good time 🙂
In the meanwhile, the option to place an Early Pre-Order is still available on our website and we invite anyone who's interested in Early Pre-Ordering FoldiMate to join the list, secure your spot in line and receive a 10% discount off the final price – as soon as possible.
Until next time our beloved FoldiFans!
Take Care,
Your Folding Mates